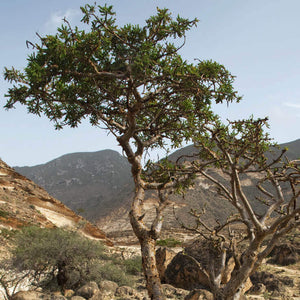 Frankincense essential oil has been used since ancient times for sacred and medicinal purposes.
An essential oil commonly used in aromatherapy, frankincense oil is typically sourced from the resin of the Boswellia carterii or Boswellia sacra tree. Also called olibanum, frankincense oil has a sweet, woody scent and is sometimes used to ease stress.
In aromatherapy, inhaling the scent of this essential oil (or absorbing it through the skin) is thought to send messages to the limbic system, a brain region that influences our emotions and nervous systems. Proponents suggest that essential oils may affect a number of biological factors, such as heart rate, stress levels, blood pressure, breathing, and immune function.
Frankincense essential oil is also used as an ingredient in perfume, incense, and skincare products.
In aromatherapy, frankincense oil is typically used for anxiety, colds, coughs, indigestion, and ulcers.
Frankincense essential oil is also used to alleviate stress and relieve pain.
When used as an ingredient in skincare products, frankincense essential oil is said to treat dry skin and reduce the appearance of wrinkles, age spots, scars, and stretch marks.
Health Benefits
Cancer
Laboratory research on human cells indicates that frankincense essential oil may possess immune-stimulating and cancer-fighting properties that could aid in the protection against breast cancer and pancreatic cancer. However, it's important to note that these studies were conducted in a lab (and not in people) and didn't test the aromatherapeutic use of frankincense oil. More research is needed.
A combination of essential oils including frankincense oil may help sleep in people with cancer, according to a study published in Complementary Therapies in Clinical Practice in 2016.4 For the study, people with cancer were given personal inhaler devices containing essential oils.
Of those who used the device, 64% had an improvement of at least one point on the sleep scale.4 One essential oil blend found effective included frankincense (Boswellia carterii), mandarin (Citrus reticulata), and lavender (Lavandula angustifolia). 
Osteoarthritis
Frankincense appears to have anti-inflammatory properties and several studies have examined its use for osteoarthritis and knee pain.
One 2018 review of published studies found Boswellia serrata extract shows clinically significant pain reduction for short-term use. However, studies showing its efficacy for long-term pain reduction are lacking.
Possible Side Effects
Research is needed to assess the potential benefits and risks. Ingesting frankincense essential oil may have toxic effects and isn't recommended, unless under a doctor's supervision.
In addition, some individuals may experience irritation or an allergic reaction when applying frankincense essential oil to the skin. A skin patch test should be done before using any new essential oil. Additionally, essential oils shouldn't be applied to skin undiluted.
Pregnant or nursing women and children should consult their health care providers before using essential oils.
It's also important to note that self-treating a condition with frankincense essential oil and avoiding or delaying standard care may have serious consequences.